Rescuers search for missing after deadly Hong Kong ferry crash

By the CNN Wire Staff
updated 12:07 PM EDT, Tue October 2, 2012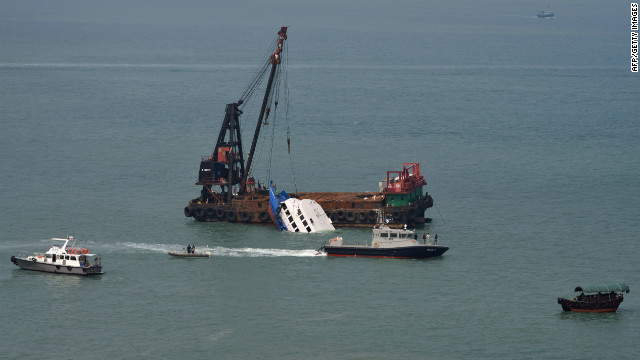 The bow of a boat that collided with a Hong Kong passenger ferry is partially submerged during rescue operations Tuesday, October 2. At least 38 people died in the accident that happened Monday, October 1, near Lamma Island. Authorities are still looking for missing passengers.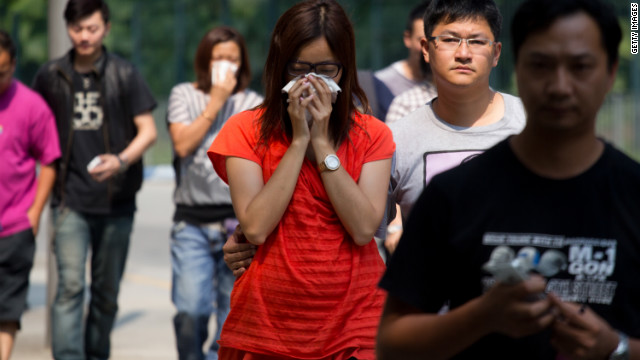 A woman cries Tuesday as she leaves a public mortuary holding the bodies of those who died in the boat collision.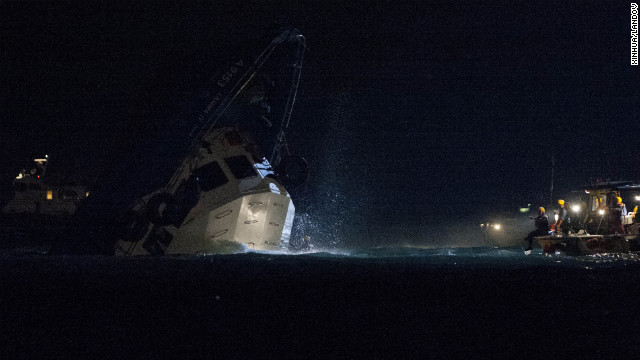 Rescuers approach the sinking vessel late Monday.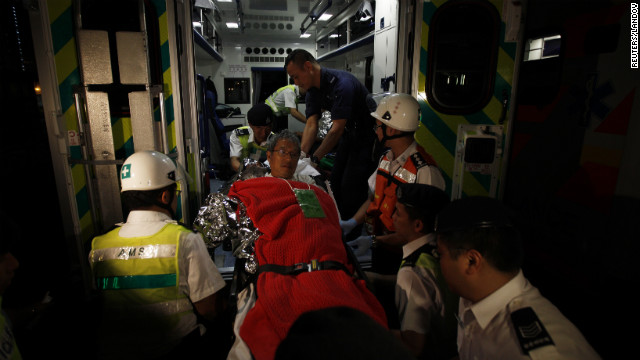 A survivor is helped onto an ambulance. The crash necessitated what local police called a "major rescue" operation, according to China's state-run media.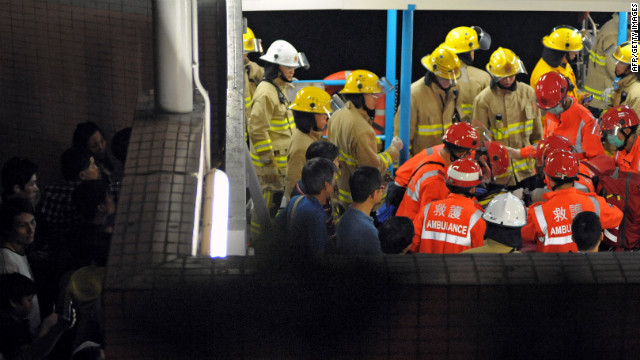 Local residents try to get a glimpse of rescue personnel as they tend to a victim Monday night. The incident happened around 8:20 p.m. local time, just off the coast of Lamma Island, southwest of Hong Kong.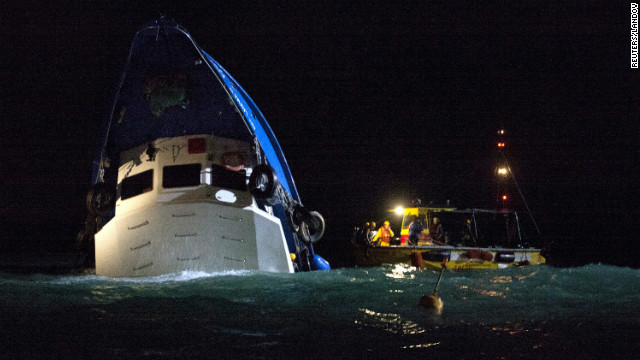 Rescuers search for survivors near the crash site. More than 100 people were picked up.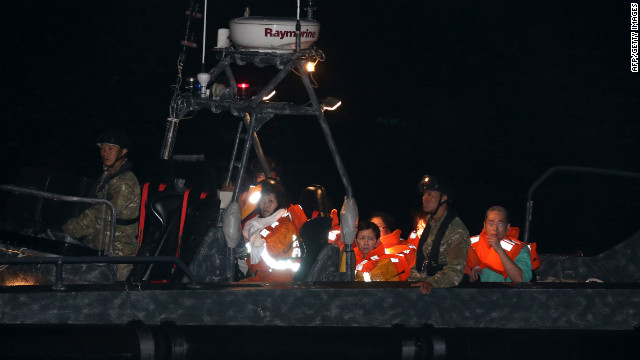 Survivors are transported to shore on a police boat late Monday.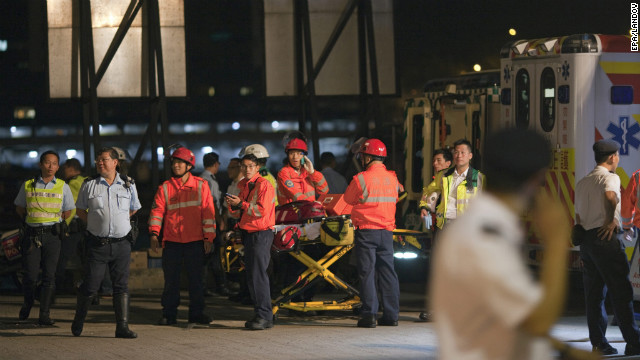 Medical and rescue personnel wait for survivors by the ferry pier.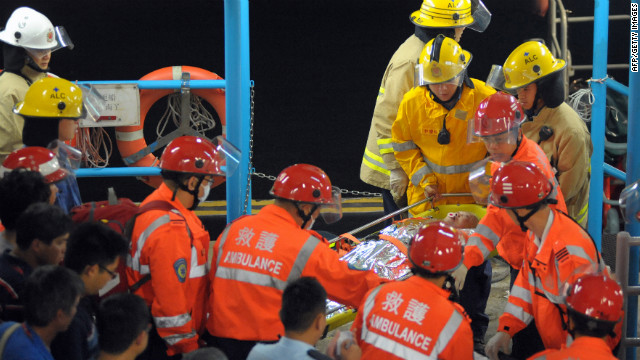 A victim is carried ashore Monday.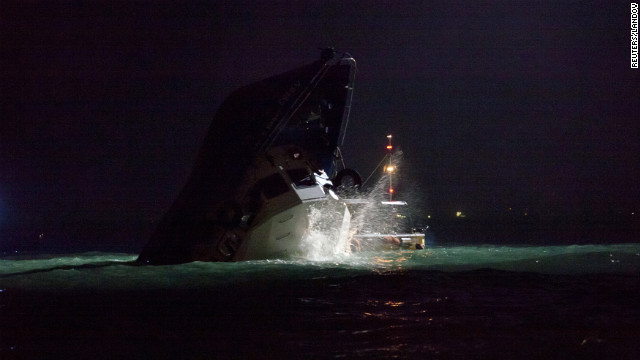 Rescuers approach an overturned boat. A local company had rented one of the boats for a staff holiday outing.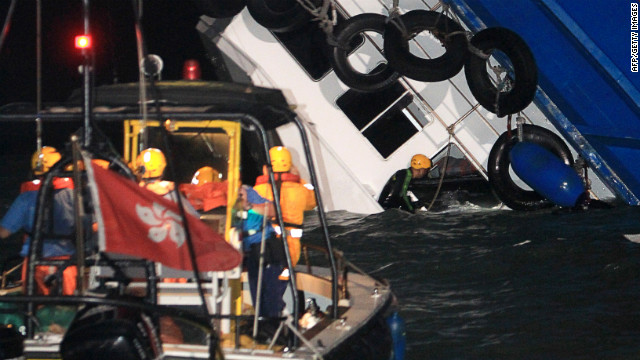 A rescuer looks through a window of the rapidly sinking ship.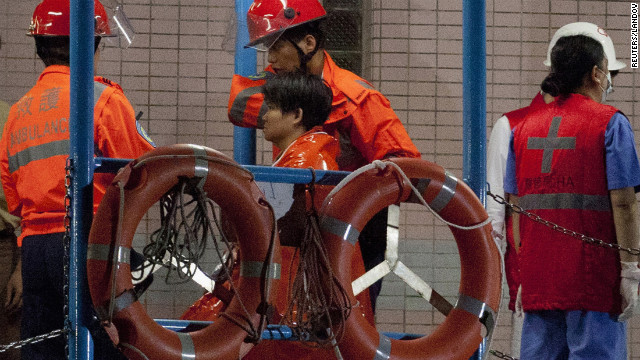 A passenger is helped on shore. Survivors were taken to a number of public hospitals.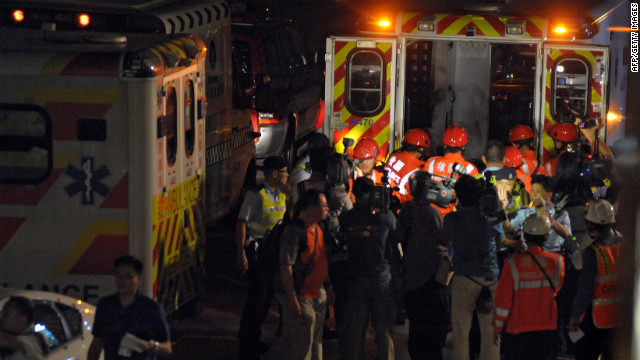 Members of the media surround rescue workers as they carry a victim into an ambulance Monday night.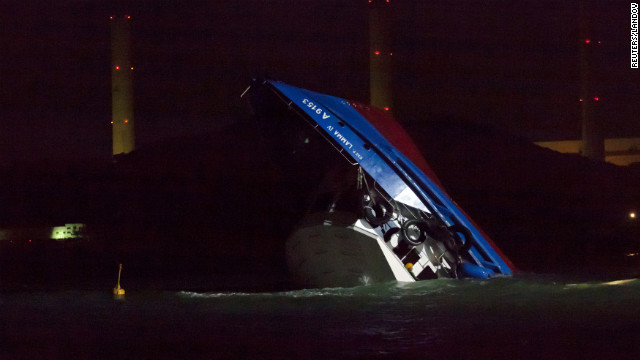 The crash sent dozens of passengers into the water.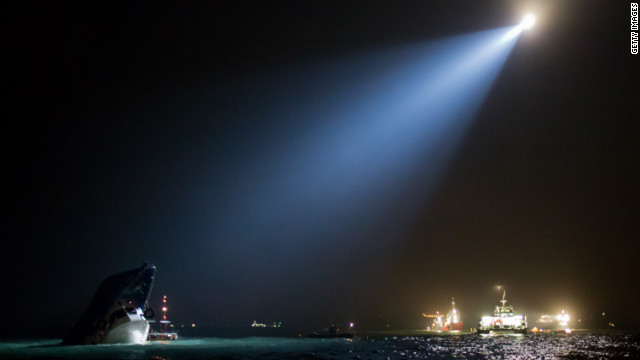 Rescue crews search for passengers in the waters off Lamma Island. It's unclear how many people remain unaccounted for, authorities say.


STORY HIGHLIGHTS




A passenger ferry collided with a vessel in Hong Kong's crowded harbor

The death toll has risen to 38, Hong Kong authorities say

Authorities are searching for countless others who are missing

Police have arrested seven crew members on suspicion of negligence



Hong Kong (CNN) -- They stepped onto the evening ferries in Hong Kong's crowded harbor to watch the sky light up with fireworks to celebrate China's National Day. Instead, the night ended in chaos and tragedy.

Two ferries collided Monday night, upending one of the vessels and sending passengers into the water. At least 38 people died. Rescuers picked up 123 survivors and are still searching for a countless number of others who are missing.

Passengers on board the ferries said they had only moments to escape.

"First it was up to here and then here. The water rose so quickly," one woman, who declined to be named, told CNN affiliate i-Cable. "We thought we were going to die for sure."

The boat rolled violently before it partially sank.

"I opened the window and pushed a child out. I put a life jacket on him and pushed him out first," he told i-Cable. "At the time, it was very chaotic. The boat was completely standing straight up in the water. It was chaotic. All the tables and chairs were everywhere. It was like a slide; everything was sliding down."

Authorities are investigating what caused the crash, Hong Kong's most lethal maritime accident in more than 40 years. Police have arrested seven crew members from the vessels on suspicion of endangering passengers.

The collision involved a passenger ferry traveling from Hong Kong Island to Lamma Island and a vessel owned by the Hong Kong Electric Company, which was carrying company employees and their families to watch the scheduled fireworks display. Government officials said it occurred off Lamma's coast about 8:20 p.m.

"I thought we'd hit a rock or a lighthouse," said Chris Head, a teacher who was on the passenger ferry. He said the vessel went from what felt like full speed to "an abrupt halt."

Head said the force of the impact threw him out of his seat at the back of the ferry, which was not very full of people.

As the damaged ferry began to move toward a pier in the small town of Yung Shue Wan on Lamma, Head said, he could see the other boat had started to sink into the water vertically, like the Titanic.

"It was very dark," he said. "There were very few lights on board."

According to the Hong Kong Fire Services Department, which led the rescue, the vessel began to sink quickly after the impact. It said low visibility and many obstacles on board made work difficult for rescuers.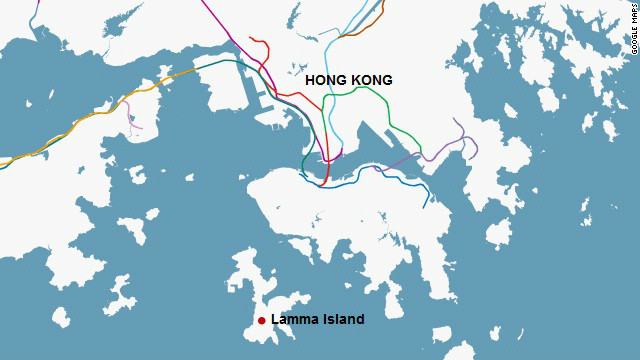 Collision site

"After 10 minutes out, a boat crashed into ours from the side at very high speed," one male survivor from the accident told the South China Morning Post, a local newspaper. "The rear of the ferry started to sink. I suddenly found myself deep under the sea. I swam hard and tried to grab a life buoy. I don't know where my two kids are."
Residents on Lamma, a lightly populated island southwest of Hong Kong Island, reported being awakened in the middle of the night by the massive rescue operation going on offshore.

On Tuesday, the front of the stricken vessel was still sticking out of the water, tethered to a barge equipped with a crane just a few hundred meters from the coast of Lamma. Emergency services boats surrounded the scene, and divers conducted a search.

Despite a hole torn in its bow, the passenger ferry was able to dock safely after the crash. Government officials have not confirmed whether passengers aboard that vessel were injured, but Head said nobody around him appeared to have been hurt.

The narrow sea lanes leading into Hong Kong's main deepwater harbor are some of the busiest in Asia, with giant commercial freighters, ocean liners, passenger ferries and private boats of all sizes sharing the waters.

Hong Kong is home to more than 200 outlying Islands, including Lamma, the city's financial center. Hong Kong Island is on the south side of Victoria harbor, with Kowloon forming its northern shore. North of Kowloon lie the New Territories, which stretch all the way to mainland China.

Monday's crash is Hong Kong's most lethal maritime accident since 1971, when 88 people died after the ferry Fat Shan capsized between Hong Kong and Macau amid a typhoon.

CNN's Paul Armstrong, Jethro Mullen, Judy Kwon, Pamela Boykoff and Mark Morgenstein contributed to this report.

Terrible. Mais j'ai toujours été étonné de voir l'énorme cafouilli du trafic du port de Hong Kong , en particulier entre Kowlong et le Continent. Jonques, barges, ferry, se croisent sans le moindre semblant d'ordre, et ça prend de bons marins(ou des fous) pour se risquer dans ce coin.

Ancien membre




Messages

: 5198


Date d'inscription

: 05/01/2011



38 victimes, c'est à peine ce qu'il faut en Chine pour que ça passe dans les média...mais puisque c'est Hong Kong on en entends parler.

PJ

PJ




Messages

: 2100


Date d'inscription

: 15/08/2011



---
Permission de ce forum:
Vous
ne pouvez pas
répondre aux sujets dans ce forum